Fish Bendazole - Fenbendazole 250 mg Powder Packets (3 Count) [DISCONTINUED]
Thomas Labs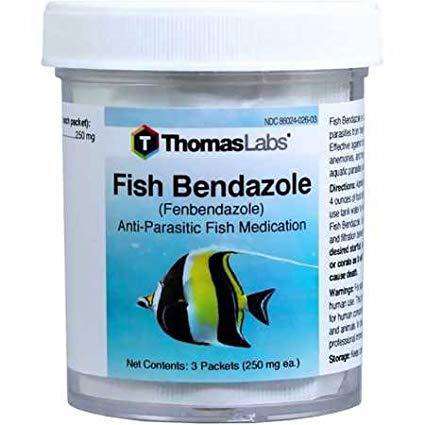 Available Sizes
3 Packets of Fenbendazole
12 Packets of Fenbendazole
30 Packets of Fenbendazole
FENBENDAZOLE POWDER - 99% PURE - The only source for pure fenbendazole. Other brands are only 22% active.
Fenbendazole is used as a worming agent in tropical fish. It is extremely effective in both fresh and salt water environments against most all types of worms, including: Tapeworms, Roundworms, Hookworms, Calamus, and Whipworms. It has replaced levamisole (Discomed) since the fish do not build a resistance to it. Fenbendazole can be dosed either as a tank treatment or in the fish food itself. It works so quickly that you will usually see worms protruding from infected fish within an hour!
Packaging: Packaged in convenient, single use 250 mg pouches that are mixed with food for an easy three day dosing.

Directions:Mix one packet with approximately four (4) ounces OF FOOD and let soak for 30 minutes.While duration of treatment depends on type and severity of infection, it is recommended that extended medication baths continue for a minimum of 5 days & for not more than 10 days. discontinue treatment if no improvement is noted within 5 days. to remove harmless yellow color, change 20% of water and use charcoal filter until clear.
Suggested Use: Can be used in a hospital tank for single fish or in main tank populated by fish only. Best used in combination with a fish antibacterial polymer to increase palatability and reduce loss of medication to water. treat for a 3 day duration with water changes and filtration between treatment.
Caution: Fish Antibiotics are for aquarium and ornamental fish only. not for human use. keep out of the reach of children. not to be given to fish that are intended for food use.
Storage: Keep lid tightly fastened and store at controlled room temperature of 59°-86°F. (15°-30°C).
Related Products:
Fish Zole