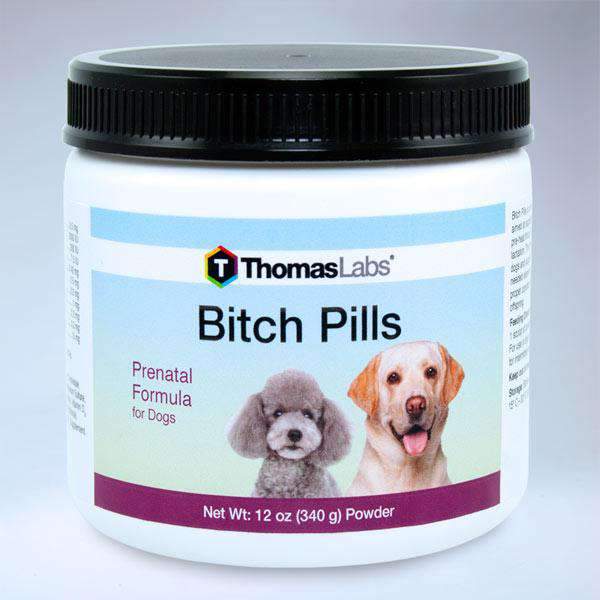 Bitch Pills Dog Breeding Prenatal and Reproductive Health Supplement
Bitch Pills is an all-in-one prenatal formula aimed at supporting the female dog from pre-heat through the process of birthing and lactation. This formula promotes fertility in dogs and supports the female's systems with needed vitamins and minerals to stabilize proper conditioning and support healthy offspring.
Even though the big day isn't here yet, you need to prepare for it! Bitch Pills is an all-in-one prenatal vitamin and support formula that supports the female dog from pre-heat to birthing and even through nursing. This dog prenatal formula helps support fertility by providing necessary vitamins and minerals to the female. It will keep your dog fully fit and ready to bring new joys into your world. But that's not the end of it! By doubling as a postnatal lactation formula, Bitch Pills will also help your new mom provide the highest quality milk possible to her new litter of puppies. With so many benefits, it's no wonder why your first choice would be Bitch Pills from Thomas Labs®.
Feeding Directions: Powder
Administer daily. For dogs, give 1 scoop of powder per 25 Lb of body weight. For dogs only. This product is intended for intermittent or supplemental feeding only.
These products are intended for intermittent or supplemental feeding only.
Keep out of reach of children.
Storage: Store at controlled room temperature; 15° C – 30° C (59° F – 86° F).
Calorie Content (Calculated): 12.94 kcal ME / 5 g teaspoon.
Ingredients:
Dried Kelp (species Ascophyllum Nodosum), Saccharomyces cerevisiae, Red raspberry, Zinc gluconate, Pyridoxine HCL, Calcium carbonate, Ferrous fumarate, Magnesium sulfate, Flavoring, Vitamin A supplement, Vitamin D3 supplement, Vitamin E supplement (dl-alpha tocopherol), Ascorbic acid, Thiamine hydrochloride, Riboflavin, Niacin, Folic acid, and Vitamin B12 supplement.
Related Products
Bitch Pills - 120 Tablets