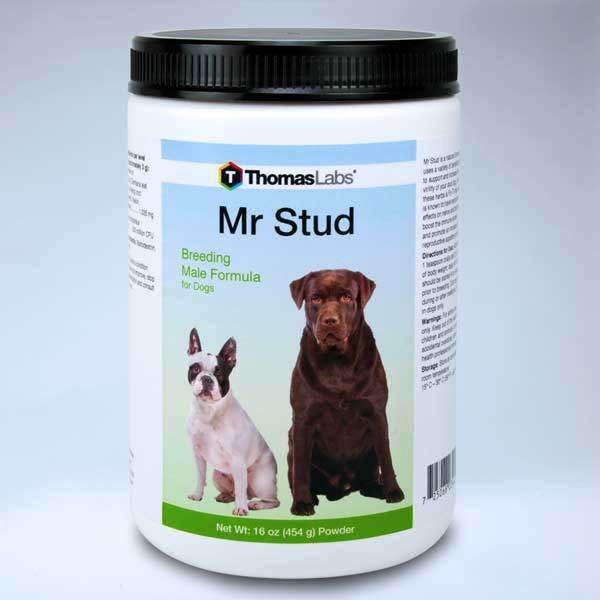 Mr Stud
Breeding Male Formula for Dogs
Mr Stud uses a variety of beneficial herbs to support and increase the virility of your stud dog. One of these herbs is Fo-Ti root, which is known to have restorative effects on nerve and brain cells, boost the immune system, and promote an increase in reproductive appetite and vigor.
If your breeding dog is having a little trouble achieving desired results or if you'd like to help your stud get that extra edge, a little help from a supplement never hurts. Especially when that supplement is Mr Stud from Thomas Labs, a breeding formula focused on supporting the robust virility, vitality, and overall well-being of stud dogs. By utilizing a variety of beneficial herbal ingredients, many of which have been used around the world for hundreds of years, Mr Stud aims to support your dog's reproductive activities. One of these herbs is Fo-Ti root, which is known to have immune-enhancing effects on nerve and brain cells, support the immune system, and promote reproductive appetite and vigor. When a dog begins to show signs of age, loses interest or inclination easily, or needs that extra edge, Mr Stud is the perfect choice. Mr Stud breeding supplement for dogs is exactly what you've been looking for, and it's exactly what your dog needs.
For use in dogs only.
Directions for Use:
Administer 1 teaspoon (5cc scoop) orally per 25 Lb of body weight, daily. Mr Stud should be started 4 to 8 weeks prior to breeding. Can be given during or after mealtime.
Warnings: For animal use only. Keep out of the reach of children and animals. In case of accidental overdose, contact a health professional immediately.
Storage: Store at controlled room temperature; 15° C – 30° C (59° F – 86° F).
Active Ingredients per teaspoon (5cc scoop):
Proprietary Blend of (Fo-Ti Root, Zinc, Damiana Leaf, Sarsaparilla, Siberian Ginseng Root, Dl-Alpha-Tocopheryl Acetate, Niacinamide, Sodium Selenite)…………………… 1,335 mg
Lactobacillus acidophilus.…………………………… 500 million CFU
Inactive Ingredients: Diatomaceous Earth, Maltodextrin
Cautions: If animal's condition worsens or does not improve, stop product administration and consult your veterinarian. Administer during or after the animal has eaten to reduce the incidence of gastrointestinal upset. It should be used with caution in those animals with hypertension. Should not be used with diarrhea.
Related Products